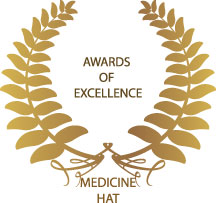 The Awards of Excellence in Housing honors exceptional achievements and admirable service in the respective fields of the Associations' Members. Honors range from peer-evaluated awards to multiple judged categories as well the prestigious Builder and Renovator of the Year awards. The awards committee strongly encourages you to review the submission requirements for the Awards of Excellence in Housing as listed in the enclosed entry guide.
To submit an entry in one of our Awards of Excellence categories, please click here.
Our 2021 Awards Entry Guide click the link for all the information you need about creating a submission for the 2021 Awards of Excellence.  We are excited to introduce the use of a Nomination form.  Click the link and fill out the form!
All Housing and Renovation categories are judged based on the pictures submitted by CHBA Members from outside the Medicine Hat Region to keep the results impartial.
Awards of Excellence Sponsors
VIRTUAL PRODUCTION
BRONZE
EBT Chartered Accountants
Windsor Plywood
Plygem
ANHWP
BUILDER OF THE YEAR — Global Raymac Surveys
RENOVATOR OF THE YEAR — Reliance Insurance
NEW HOME DESIGN — Inland Concrete
ESTATE HOME DESIGN — Alantis Custom Creations
BEST MULTI FAMILY — Design Flooring Centre
GREENEST BUILDER — Advanced Energy Advisors
BEST ENSUITE — Stringam LLP
BEST KITCHEN — Design Kitchens & Countertops
BEST RENOVATION — Creative Floor Coverings
BEST SUPPLIER —
BEST SERVICE PROFESSIONAL — Johnston, Morrison & Hunter
BEST TRADE —
SAFETY LEADERSHIP — Western Financial
PARADE OF HOMES COMMUNITY CHOICE — City of Medicine Hat
Awards of Excellence 2020 Finalists & Winners
All Winners and Finalists
Best Single Family
Jayco Builders (Winner)
Brost Developments (Winner)
Lacey Homes (Winner)
Jasper Homes (Winner)
Best Estate Home
Brost Developments (Winner)
Kenco Construction (Winner)
Best Multi Family
Lacey Homes (Winner)
Mulder Builders (Winner)
Parade of Homes Community Choice
Lacey Homes (Winner)
Best Kitchen
Brost Developments (Winner)
Best Ensuite
Jasper Homes (Winner)
Greenest Builder
Bosch Built Homes (Winner)
Safety Leadership
Brost Developments (Winner)
Design Flooring Centre (Winner)
Best Renovation
Brost Developments (Winner)
Brost Developments (Winner)
Kenco Construction (Winner)
* over $300,000
Brost Developments (Winner)
Supplier of the Year
Inland Concrete (Winner)
PlyGem (Winner)
Service Professional of the Year
Onsite Category

Offsite Category
Trade of the Year
Concept Plumbing (Winner)
A-Phase Electrical (Winner)
Renovator of the Year
Brost Developments (Winner)
Builder of the Year
Brost Developments (Winner)